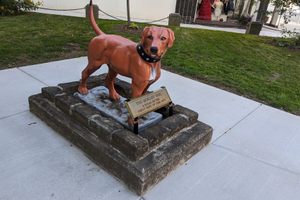 In the 1977 movie Slap Shot, a comedy about a fictitious rag-tag team known as the Charleston Chiefs, player/coach Reg Dunlop (played by Paul Newman) leads his team to an unlikely championship. Johnstown itself plays a starring role in the film as the declining factory town, Charleston. Several Johnstown venues appear in the film, including Johnstown Train Station, The Hendler Hotel (now the Social Security Administration), Cambria County War Memorial Arena, and Main Street, which runs along Central Park.
One of the most memorable snippets of dialogue in the film took place in Central Park. Morley's Dog was moved there from his perch near Main and Market Streets specifically for the scene.
Lily Braden (played by Lindsay Crouwife of the team's best player, is drinking on a bench in the park when she is joined by Dunlop. After rebuffing his first couple attempts at conversation, she notices the statue and asks, "What's the story on that dog?" Dunlop explains, "That's the dog that saved Charleston from the 1938 flood," to which the perpetually surly Lily retorts, "Well, fuck him."
In fact, there is some loose truth to this apocryphal story. The original Morley's Dog statue was originally cast in the latter half of the 1800s by J.W. Fiske and purchased by James Morley, head of transportation for the Cambria Iron Company in Philadelphia in 1870.
Morley's Dog was a garden ornament at Morley's home when a massive flood hit Johnstown on May 31, 1889. The statue was swept away with the current and ended up as part of the flood-formed dam at Old Stone Bridge.
The statue was retrieved and returned to the Morley home. The statue was moved several times before ending up at Main & Market in 1944. In 2012, the original Morley's Dog was moved to the Heritage Discovery Center and a replica was placed at Main & Market.