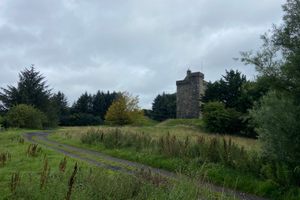 Situated within the picturesque James Hamilton Heritage Park lies Mains Castle, a remarkable residence that dates back to the 15th century. The land holds great historical significance as it was thought to be gifted by Robert the Bruce.
In 1478, the castle was occupied by Princess Euphemia Stewart and her husband David Lindsay. The castle suffered external damage in 1679 during the Battle of Bothwell Bridge after being fired upon with cannonballs. Remarkably, when inspected up close, there are cannonball marks on the lower walls of the castle today.
The castle has changed owners many times over the years, and in 1922, a large storm hit that collapsed the roof and caused the property to lay derelict for several years. It wasn't until a massive restoration project between 1977 and 1985 that the castle became liveable again. The tower structure within the castle has five floors and has been restored to its former glory.